Functional, fertile and predictable red brahmans
Breeding Australian Red Brahmans of Distinction
Malabar Red Brahmans is an emerging Brahman seedstock operation specialising in producing high quality Red Brahmans. We are focusing on breeding Brahman cattle with exception visual appeal and quality and performance supported by high standards for selection and retention, genomics and good old-fashioned integrity and customer service.
Our history in the Brahman world may only be baby like, however we combine and draw on generations of farming and business, community service and family values, as our building blocks – integrity, honesty, humility and hard work.
History and traditions are great teachers; however, we also love progress – to utilise cutting edge breeding techniques, technologies and genetic material with the aim to be breeding and sharing exceptional and spectacular Red Brahman Bulls and Females.
Our aim, as a seedstock producer, is to see others, seedstock and commercial producers alike, breed on and succeed with your genetics. The success and value of any cattle operation extends from the foundation that has been built and the key attributes selected on: phenotype, carcass attributes, performance, fertility, do ability and disposition.
The Brahman breed is a common element in many crossbreeding operations and is well known for its do ability and maternal characteristics. We see that we can continue to contribute to the ongoing advancement of the Brahman breed both here in Australia, but also internationally. Where there is room for improvement, there is opportunity and our aim at Malabar is targeted towards providing the best available polled genetics, integrated in a highly efficient, yet performance oriented Red Brahman.
Our Red Brahman bulls and females are a direct representation of our breeding guidelines and objectives.  See more about our Breeding Guidelines and Objectives here
Red Brahman Bulls For Sale
To date we have offered bulls through the Rockhampton Brahman Week Sales (Gracemere Saleyards in Queensland) and from our home farm at Marburg Queensland.
Our cow families are our foundation and we will be sharing these over the coming weeks and months. Right now we would love to share more about our bull and heifer sales.
Malabar Power Calibre sold at RBWS 2017 $50,000
Powerful polled bull, great depth of body, plenty of bone with sound feet and legs. Strong sires head so hard to find in polls. Outstanding temperament a pleasure to do anything with.
"I'm happy to say Power is an extremely quiet bull and is a very good doer in the northern climate. He has passed those traits down to his progeny"
We love to share what going on in our breeding and our bull and heifer preparations. Like and follow us on Facebook and Instagram to stay up to date with all our developments, stories and pictures.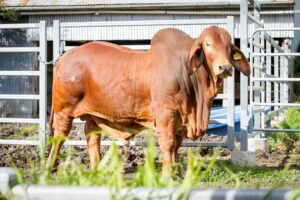 Malabar Red Brahmans are presenting 5 brahman bulls for sale at Rockhampton Brahman Week Sales 2021 at Gracemere Saleyards commencing
Read More »
Find out more about the family and history behind Malabar Red Brahmans